United Nations and its Specialized Agencies collect and publish invaluable statistical data, tools, and reports on the topics related to the work of the Organization. This guide, developed in collaboration with the UNCTAD Statistics Branch, is intended to help you find statistical resources, particularly highlighting the collections of UNOG Library and UNCTAD.

Guide Contents:

World Statistics Day, 20th October
With resolution 69/282 on 3 June 2015, the United Nations General Assembly decided to celebrate World Statistics Day every five years on 20 October.
New and Featured Publications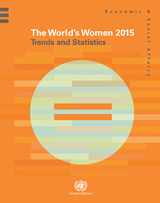 The World's Women 2015: Trends and Statistics
Publication Date: 2015
The eight chapters of the report cover several critical areas of policy concerns identified in the 1995 Beijing Platform for Action: population and families; health; education; work; power and decision-making; violence against women; environment; and poverty.
The Millennium Development Goals Report 2015
ISBN: 9789211013207
Publication Date: 2015
The report provides a final assessment of global and regional progress towards the MDGs since their endorsement in 2000. It is based on a set of comprehensive official statistics compiled by the Inter-Agency and Expert Group on MDG indicators led by the Statistics Division of the Department of Economic and Social Affairs.

The report is available in all UN languages.